cheat!
I'm not ashamed to admit it. I cheat on a daily basis.
Now, I'm not talking about cheating on taxes or having something up my sleeve during a game of cards. I'm talking about cheating my camera.
I'm always a little disappointed with the standard white balance of my Betacam. It balances correctly, but it needs a little push to warm it up. It balances just a hair too blue for my taste.
Over the years I've figured ways to cheat the balance to get the look I want. I turn my white balance paper to get a little more daylight indoors, or shadow it so it's a little bluer outside. Either way I make the camera believe the world is a little bluer than it really is, thus compensating and warming up the picture.
Almost all shooters have tried their own little tricks to get the warm look they want. Some balance on clouds, while others use faded blue jeans. Since most of us don't have the luxury of a color field monitor with us on shoots, there is a danger doing this. Unless you really know your camera you risk a weird white balance.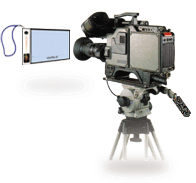 Vortex Media has come up with an interesting solution. Sturdy, laminated, pre-tinted cards to assist your white balance, called WarmCards. No more need to cheat with unreliable sources of white. You always have a slightly blue source to warm up your white balance.
Vortex sent me a packet of WarmCards to try out, and I had a lot of fun putting them through their paces. The set includes 3 shades of blue in large 5x7 size, and a small set of three ready to hang with your press credentials (they even send you the lanyard).
The directions suggests (and I completely agree) you play with these cards with a monitor before you take them on your first story. Balance with all 3 grades of blue and shoot in different environments. See what your camera will look like inside and out. That way you will know what your shots will look like on a consistent basis.
My first attempt using the cards, I balanced on "blue #1". This gives a perfect warming in most situations. The color on my camera has been tweaked (thank goodness for engineering menus) to give me good saturated color all the time. If I balance on a higher blue level, the results are too warm and saturated for my taste. This made it easy for me, I simply carry the #1 card with me and I'm ready to white balance anywhere, anytime.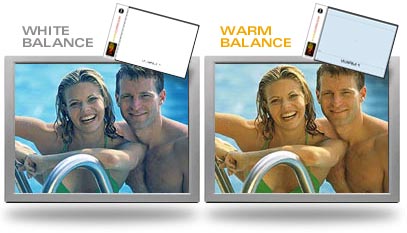 The advantage of the WarmCards is that they are consistent throughout the set. Unless you let them sit on your truck dash and fade in the sun. Your "blue #1" will always match your fellow photog's "blue #1". This way you can color match a group of cameras for a multi camera shoot without field monitors. An amazing feat.
The packaging of the WarmCards is perfect. The lamination is sturdy, and they come in a folding zippered case that fits perfectly in your run bag. Even if you don't want to take the full case, the small lanyard size can hang on the back of your camera. You'll definitely be glad you added Warm Cards to your gear bag; if for no other reason than to stop you from having to bleach your blue jeans.