March 2005
It was 1AM, cool dark and I had a band to shoot. The Director wanted to use the New Sony HVR Z1P (PAL version of the HVR Z1) with as little light as possible. I was interested to see if this new HDV format camera was up to it.
I have mixed feelings. I won't make you read all this to know that I think it good, damn it's good.
The pictures were beautiful. The detail and colour in the blacks with the tiniest amount of light was nothing short of unbelievable.
Its Cinematic mode is so film like you want to check the gate for hairs.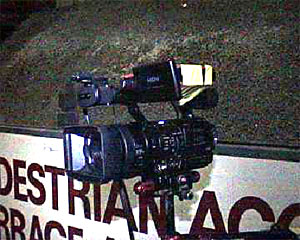 But it's still a handycam with a few limitations. It feels like a plastic toy. If you can make out anything in the picture here (sorry but it was DARK and I had no flash) you might notice the big BP90 gaffered onto the top to give the little camera almost enough weight to ride properly on my Action Cam stabilizing rig.
That sort of thing aside there is a lot to like about this camera. The focus and zoom rings feel like they have weight, like you are using a real lens. Manual zooms are accurate and positive but even better manual zooms are fast and precise. The iris control is a thing of beauty. You would swear that no electronics were involved and that it is physically connected to a mechanical iris mechanism. Smooth felling with substance.
All the good things that I liked and worked on the PD170 and the Panasonic DVX100AP seem to have been incorporated into this camera without the mistakes.
For example while the viewfinder may be colour like the Panasonic DVX100AP it's not soft and inaccurate at giving constant exposure levels. No its high res and the exposure looks the same no matter how much you move your eye around.
The flip out LCD screen seems in a funny place but you get used to it and the easy to assess while shooting menu buttons that it cleverly hides, soon you wonder why anyone ever put it anywhere else.
The onboard mic is pretty much useless but then with two fully configured XLR inputs, who cares?
It's got assignable buttons (who hasn't now days) and a mass of bits a professional cameraman like to have on the camera, adjustable zebras, a button for bars and tone, a cover that stops you from bumping the two separate audio pots at the back, the non-Perpetuating zoom ring and the manual feeling iris.
Sony seems to have put a lot of thought into what professional cameramen want in a camera.
And that's were I start to wonder if Sony have made a mistake. HVR Z1P has everything but the kitchen sink crammed into it but it's missing a few of the things that make it possible for "non-cameramen" to operate. For example there is no spot focus. Its full auto or manual focusing only. Many of the other "professional" functions on it that give me a warm tingly feeling will leave non-cameramen confused and scared without all the ezey mode stuff to get them through.
Another thing that bothers me is head wear. The camera drops into a standby mode at what seems to be about 5min of not rolling. That seems overly conservative unless the heads are prone to wear and need protecting… just guessing.
Which brings me to the biggest fault I have with this camera. Push the record button and Standby… Standby… Standby… Standby… Standby… (8 seconds later, we timed it) Record.
Are you kidding me? On a music video annoying, on a news shoot? No way.
What we seem to have here is the perfect camera for the small projects that have time to play around with the camera to get the fantastic pictures it is capable of. Maybe also a good "second" camera for ride-along's or cutaways.
Sony says the HVR Z1P is pitched for serious video enthusiasts or novice filmmakers who value prime digital picture quality, that's about right but I think it has so many features it might be a bit beyond most of them. It is a DOP's camera. It beats the snot out of any handycam I've used in every aspect except speed of use. I don't like having everyone on set waiting for the standby light to stop flashing and the camera to start rolling.
Sony will still sell heaps of the cameras as the market is all about the next big thing and HDV is IT to the want-a-be Peter Jackson's out there.
Send us your news.... E-mail us at support@b-roll.net or drop a message on the b-roll.net Message Board, and tell us what you think.