LEGO® and Steven Spielberg MovieMaker Set (#1349)
The LEGO Group (blocks and set), Pinnacle Systems (editing software), Retail: $179.99 www.lego.com/studio
Reviewed by Kim Fatica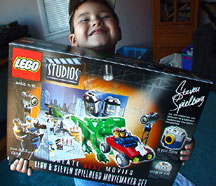 I may never have discovered this set had it not been for my five year old son, Noah, who has become an ardent LEGO fan ever since he got his first set as a MacDonald's Happy Meal prize last year. I began some early Christmas shopping for LEGO back in October and my eyes nearly popped when I saw the $179 price tag for this set at the local toy store. A LEGO set worth almost two bills? Crazy. I opted for some smaller Jack Stone LEGO sets and for a stocking stuffer I picked up the LEGO Studio Cameraman for just $2.99. Okay. I got one for me, too.
I know you're reading this out of total curiosity, quietly trying to figure out how in the world this made it into a review column for production tools and resources. How many of us have been on location, griping to our comrades from other stations that our business is no longer fun? How many times have you told others you hope your kids never get into this profession? And just think of all the cool little "career toys" we have collected-the Matchbox® TV live truck, the MicroMachines® Newsmakers set, and of course, the LEGO Crisis News Crew set (complete with news chopper, mobile truck and reporter with mic and cube). Let me tell you, the LEGO and Steven Spielberg MovieMaker Set is the ultimate "career toy"!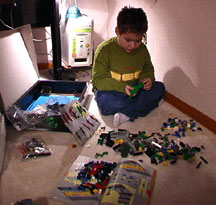 I couldn't stop thinking about the LEGO Spielberg set, so I had to play. When I finally brought the box in the house (after Christmas, of course), Noah bugged me for days to get it built and begged me to let him help. Even though the box says it is appropriate for children 8-16, I couldn't deny him the simple request, but the set does contain 188 pieces and includes a CD with the editing software (developed by the well-known digital video company Pinnacle Systems) and a 104-page manual. Thirty-five pages of the manual are devoted to building the set. My five year-old son did well putting some of the pieces together on his own, but had a difficult time curbing his patience. With both of us working together, it took a couple hours to read and assemble everything (correctly, that is) before we could tackle the software.
Software? With a LEGO set? This is no ordinary pile of plastic parts and goofy little people. This is a full-fledged production studio in a box, complete with a USB camera and non-linear editing software which utilizes a drag-and-drop timeline and viewer window, just like the real thing. Really, the only things missing from the set are lights (the Fresnels shown on the box are not functional and just look cool).
The software interface is very friendly and simple to use. Although it looks uncomplicated, it has plenty of effects, transitions and titling capabilities to make it a powerful entry-level editor. The timeline has one track for video (and sound) and one track each for sound effects and music. I discovered you can use the sound effects and music tracks as a way to layer sound (by using the music track as a second effects track). You can ramp your sound by clicking on your sound clip and sliding the red level bar up and down within the track. I have the same features on my Final Cut Pro software from Apple.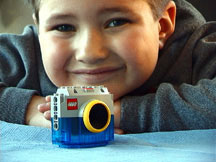 You record your LEGO movies at 15 fps directly to your hard drive by using the supplied USB camera, which looks like it was assembled out of LEGO bricks, but its looks are deceiving. The lens has an adjustable focus ring and you are able to manually control exposure, contrast and sharpness through the software. It also has the capability to record sound with a built-in microphone. A red l.e.d. on top of the camera tells you if your camera is ready to capture the action and a red shutter button on top of the camera allows you to perform stop-action animation. You can operate the camera handheld or by using the camera tracking device which you build with the set. It allows for steady shooting, tracking and tilting-a very functional piece of the set.
The set itself is pretty slick and can be assembled on a small card table. There are seven minifigures (Director, Cameraman, Assistant, Grip, fireman, actor, and actress) along with a T. Rex, baby T. Rex and a kitty. I haven't figured out the kitty yet, but most anyone will "get it" that the Director is an incredible likeness to Spielberg. Heck, even my little guy knew. You have a cityscape as your backdrop, two skyscrapers that rest on tilting platforms (to create the illusion of collapsing buildings), and a short stretch of street that splits in two when the giant steps of the T. Rex come through town. This is all about using your imagination and creativity, don't forget. You must also assemble the getaway car, the grip's fan vehicle, and the odd-looking contraption that is supposed to be a large-scale replica of T. Rex' foot. That's for close-ups, of course.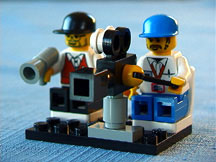 If you are a credible motion journalist of any sort, you will read the manual with a huge grin on your face. It is chock full of all the stuff you've heard when you first began shooting: lighting creates the mood; too many effects make your story confusing; low angles create the feeling of power; capturing clear, direct sound is important.
This toy is a fabulous way to teach your children basic concepts of filmmaking (as well as TV photojournalism) but remember what I continue to tell you about age-appropriateness.
Noah couldn't be bothered with shooting out of sequence, one scene at a time. Several times he told me, "Dad, this is boring," when I tried to explain to him why we had to animate the movements of the minifigures to make them look real. He struggled with the concepts of re-shooting scenes from different angles and of shooting close-ups for editing. He's five years old, and while he did a marvelous job helping me assemble things, his little mind just couldn't handle the tedium of it all.
What he did enjoy, with my help, was creating a short, 30-second movie called, "Jack Stone vs. Legozilla". I suggested he bring his Jack Stone minifigure to the set so he could save the day from a ravenous green lizard. Yeah, it was cool that we made Legozilla look like he took a bite out of the cameraman's camera. He thought it was, "Sweet, Dad!" because I made Jack run towards the camera, look around, then aim his gun. But the coup-de-grace came when Legozilla bit the torso off one of the minifigures, chewing while the legs ran round in circles, then turned to the camera and burped. Now that will get a young audience's attention every time!
Definitely spring the cash to get this set if your kids want to go to work with you because they think this will be their vocation of choice and they want to learn more. If you don't want to buy this set because you think Steven Spielberg is a greedy multi-bajillionaire who really doesn't need the money it might soften the blow to discover all his proceeds are donated directly to Starbright Foundation and Shoah Foundation. If you still need a career toy fix, pick up the LEGO Studio Cameraman (#1357) for a couple bucks and leave it in your locker at work.