X3-Lite LCD Top Light
IDX http://www.idx.tv
Reviewed by Stephen "Cameragod" Press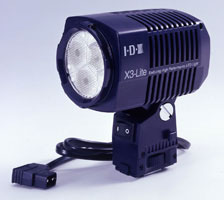 The new X3-Lite LCD Top light.
Top lights are not something I've had a lot of use for on production shoots but with a long run on a new reality show shot mostly at night coming up I thought it was time to get a new one. I've been using the IDX batteries for some time now and have been very pleased with them, so I was looking forward to getting my paws on their new LCD top light. At first glance it's a nice little unit. Complete with a hot shoe for quick attachment and removal instead of a bulb it uses three high-powered LED's to provide light. Apparently they have an output of the equivalent to a 35W halogen bulb at 'daylight' colour temperature, while only requiring 11W of power. The light from it did seem to be a nice and soft dropping away quite quickly but still enough to use as fill in some daytime situations and more than enough at night, in fact it has a built in dimmer if you need less.
It's a strange thing trying to use gel to get "tungsten" coloured light from it, and to be honest it took a long time with a monitor to get something that wasn't W/B as a sickly yellow on skin tone, but our rep for IDX say they will have a new filter and barn doors out soon.
One disappointing factor was that on the first one I tried the dimmer didn't work and one of the LCD's died but the IDX rep had a new one out to me the next day and it has been trouble free.
In fact I have just been using the new one for the New Zealand Election coverage and the dimmer works even better than I thought. In a long dark hall I can use fully undimmed to light the people at the back of the room reacting to the results as they come in, then I can dim the light back down to shoot an IV with the politician close up to me so she doesn't look like a possum in the headlights. I like the dimmer very much.
So, a good flicker free, dimmable top light that runs cool with low power consumption, if it turns out to be reliable then I'll be very happy with it indeed.