V600 Co-Pilot Digital Compass
Precision Navigation, Inc. $59.95 www.precisionnav.com
Reviewed by Kim Fatica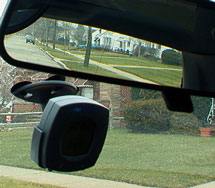 I logged nearly 36,000 miles on my news vehicle last year, which supports the theory that much of our days are spent in transit. While most of us are human road maps, navigating our home territories without directional scribbling, I've worked with plenty of folks who have a god-awful sense of direction. Map and compass skills were taught extensively in the Boy Scouts and should be required training for all ENG truck and camera ops.
Precision Navigation is in the business to keep people on the right path on land, in the water, or up in the wild blue, to get from point A to point B with the least amount of hassle. The company has developed their patented magnetic sensor technology for the U.S. military and for companies like Chrysler, Ford, GM and Timex. PNI's dual-purpose V600 digital compass is a simple way to keep you heading in the right direction. It may be used both as a window-mounted vehicular compass and as a handheld, portable compass.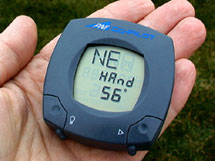 The unit is a compact three inches square and features an easy to read LCD face that displays 16 cardinal points (N, NE, NNE, etc.) and numeric readings in one degree increments. The V600 is feature-laden for such a small instrument, sporting a programmable backlight, destination point setting, trip timer, 12/24-hr. digital clock with alarm, auto shut-off, and a magnetic distortion message to alert you if your compass becomes influenced by outside magnetic interference.
All of these features make it sound like a complicated instrument to use, but I've seen sport watches more confounding than the V600. The most difficult part of this compass is calibrating it, which requires you to depress both buttons on the unit, then wait for your cue to drive your car in two complete circles, taking at least 15 seconds per circle. You then have to calibrate the compass for handheld horizontal use by performing the same ritual without becoming dizzy. This calibration method allows the compass to tell the difference between Earths magnetic field and those fields generated by artificial sources such as the steel body of your vehicle or other electronic devices. PNI recommends re-calibration any time you relocate the compass within your vehicle.
The handheld application of this compass should be apparent for any microwave ENG truck operator. You can set your receive site's bearing in the compass to help point your dish or antenna in the right direction.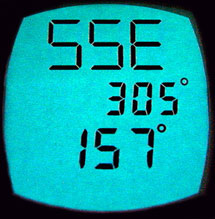 The backlight is bright, making nighttime reading very easy. You may set the light to stay on for 10 or 30 seconds, or you may also set it for "00" seconds, which leaves the backlight on until you decide when it should be turned off. The first week I had the unit I would occasionally hear a faint, high-pitched whine in my car, but couldn't figure out its origin. I turned on the backlight one night and heard the sound again. While not a major issue for most people, it could be if you have sensitive ears and need to leave it on for any length of time.
The trip timer is another thoughtful feature of the V600. It's good for betting against the reporter's notions that Point B is "only a few minutes away". Now you'll know.
I wasn't particularly happy with the standard clock feature. The clock is displayed when the compass is idle and until you activate the compass. I don't know if mine was defective or not, but it didn't keep time particularly well, even with two fresh AAA batteries. I know of another person who noticed the same problem with his unit. We discovered we lost about five minutes a month and I found that to be very annoying.
PNI has a nice line of navigational instruments that you can check out on their website. The V600 is a nifty addition to your gadget bag if you're one of those people who couldn't find their way out of a one-way alley. It's the only compass I've seen with dual applications and a sensor to tell you if it's giving you false readings.