TV Azteca and the Watermark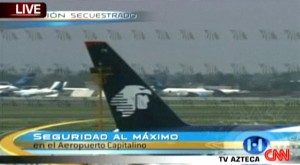 I'm starting to think that the folks at TV Azteca read b-roll.net. Or at least Nino's thread about watermarking your video.
The live hijacking footage coming out of Mexico today on all the networks was plastered with the TV Azteca logo. I've seen bugs and "courtesies" but never something across the entire image. Is this the future of shared video?