iPhone Video "Madness"
There has been a lot of talk on the b-roll.net FORUM about video on an iPhone. Jim Sitton shared this clip from WFOR-TV in Miami. It's about the hype of the new iPhone 3Gs – shot completely with an iPhone.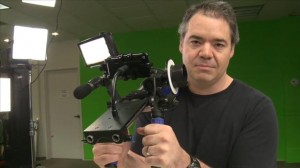 The folks at ProVideo Coalition took it one step further and outfitted their new iPhone with a top light and shoulder mount.
All of this is fun – and a little tongue-in-cheek, but with all of the news from Iran coming out via cell phone video, what does this mean for news in the future.
I personally don't think news will ever shoot all video with cell phone cameras, but it does look like a valuable tool when the situation is right. When immediacy is more important than video quality.