How WFAA Became the First b-roll.net Super Station
by Brigette Polmar
Peruse the list of winning entries in the first annual b-roll.net AWARDS and you'll start to see a pattern of four repeating letters: W-F-A-A. In fact, out of hundreds of entries from across the country
photographers from Dallas-Fort Worth's WFAA placed in all five core categories of the peer-judged contest and appeared five times in the supplemental categories, as well.
So what's their secret? The winning photographers credit a combination of attitude, hard work, and good management.
"It's a matter of pride," said WFAA's Greg Johnson, who walked away with the BEST of b-roll.net trophy for a large market (market size 1 – 30). "We're WFAA and we're going to be the best. I'm very proud to be a member of WFAA. To be here is just a dream," said Johnson.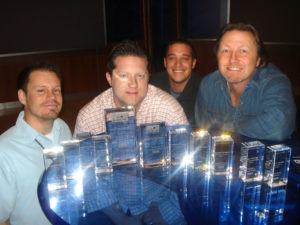 "Everybody that works here knows the reputation that the station has always had. It just kinda rubs off," said Anthony "Ryan" Oliveria, who placed in the supplemental category of Hard Feature – a category completely dominated by WFAA shooters who, according to Oliveria, don't the let pressure to be the best get in the way of having a good time. "We have guys who have been here for more than 25 years and they all still have a good attitude. We have fun every day that we go out."
At WFAA, hard work and fun are not mutually exclusive; together, they're the recipe for success. "I've never seen a harder working group of guys," said WFAA photographer Charles Fisher, whose Dog Competition piece placed in the General News core category. "A lot of guys here work really hard. They've got families they don't see often and they still come in on the weekends to edit."
The expectation of excellence is at its highest when a big story breaks. "The entire staff steps up and shines," said Johnson, who placed third in the Spot News core category. "That's when you see all that journalism, experience and talent come together as one unit, and that one unit is very strong. It's a powerhouse."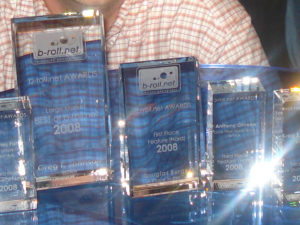 Driving that powerhouse is a belief in letting WFAA photogs do what they do best: tell great stories. "They [station management] give you your assignment and leave you alone," said Fisher. "They give you the opportunity to do stories you can be proud of."
The photographers at WFAA have a lot to be proud of. In all, four photographers placed in this year's first-ever b-roll.net AWARDS. While the top prize, b-roller of the YEAR, went to WBFF photographer Darren Durlach in Baltimore, as a station, WFAA swept the contest. WFAA had the most winning entries from a single station and appeared 10 times in the rankings, representing fully 1/3 of the winning entries.
To view some of WFAA's winning stories, click here.