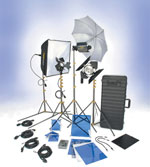 Gotta love prizes!
Not only did Miller Camera Support and Lowel-Light treat us to free food and beer at the b-roll.net BASH on April 14, 2008, they also topped off the night with some really cool prizes.
Lowel-Light gave a DV Creator 44 Kit to Scott Robinson of Dallas, TX, and Kevin O'Harrow of Washington, DC walked away with a DV Creator 55 Kit.
The "55" Kit is worth over $1500. It's a shame I am not eligible to win! Lowel shipped the kit this week – to prevent the winners from having to load them on the plane for the ride home.
I did win a cool and unexpected prize. Willis Hunt of PortaBrace brought me a personalized CAR-1B Cargo Bag complete with a b-roll.net logo and my name on it. No worries that someone in my shop will run off with my bag! Portabrace also gave 2 of the b-roll.net LIMITED EDITION bags to a couple b-rollers in the crowd. Granted their bags don't have my name on them… lucky for them…
A lot of b-roll.net supporters had cool stuff to give away along with b-roll.net T-shirts and hats. The folks at Shooter Slicker and ATS Communications both gave away some fun gadgets.
After giving away a couple Miller Monopods, the big prizes of the night were matching SOLO DS20 Carbon Fiber Miller Tripod kits valued at $1500 each. These are beautiful tripod kits. And again, I wanted to take one home myself.
But alas, long time
b-roll.net
BASH attendee,
Richard Campbell
of Atlanta, GA and
Shawn Dennison
of San Diego, CA were the winners. Both are living life slightly more steady thanks to new gear from
Miller Camera Support
.
Thanks to everyone who came out to the BASH. It appears the Harley-Davidson Cafe has room for us to grow, so we look forward to an even larger party next year. See you there!