Introducing b-roll.net TV
Months in the making, we're proud to release our newest feature — b-roll.net TV.
Finally, the world's premiere website for TV photographers and cameramen has a way for you to show off your work. b-roll.net TV is a video upload and sharing service that is free to b-roll.net FORUM members.
Upload video directly to b-roll.net TV for free. E-mail the link to your family, friends and colleagues or embed the video in your blog or b-roll.net FORUM post.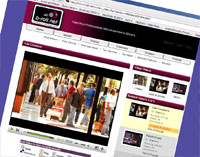 "CAN I BE ON b-roll.net TV?!" Of course you can… Here's how it works:
GO to http://b-roll.net/tv and log in using your b-roll.net FORUM username and password (don't worry, there is a link to recover your lost or forgotten password). If you don't have a FORUM account, click here to register.
CLICK on UPLOAD, and choose a title, description and keyword "tags" to identify the video.
CHOOSE a file to upload. Keep in mind, the uploaded file must be less than 100mb and the file name must not contain any spaces. We can accept AVI, WMV, QuickTime, DIVX, MPEG, 3GP, FLV and many more.
SELECT thumbnails to represent your story. After the system has converted your video to Flash video, it will automatically select three stills as your thumbnails. If these don't work for you, simply check the ones you want to keep and click "generate new thumbnails." New images will replace the old. You can continue to generate new stills until you're satisfied. Select "update" and you're ready to go…
It's that simple… now go out there and make some TV magic!