What Doesn't IKEA Sell?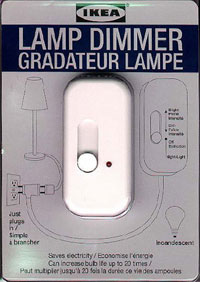 From: Phil Fraboni, E.N.G. Camera / Editor — CHtv Hamilton, ON aka HamCam
I came across this lamp dimmer while doing a "Get your closets organized" story at IKEA. It could be used nicely to dim a table lamp that we all love to set in the background of our shots. Nine times out of ten the lamps are not the 3 step dimming type. So just plug this dimmer inline with the lamp and presto… set the level to your liking. Mind you I have not field tested it yet to see whether there is any hum. But it is only for accent lighting not for the Key/Fill/Back lights. It was a pretty good deal too… only 20 Bucks… Canadian that is.