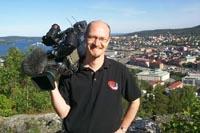 The pictures are shot from Norra Stadsberget (North Citymountain) with the town and harbour in the background. The town of Sundsvall is in the mid of Sweden, situated on our east coast and has about 100.000 inhabitants. When you look on a map the town is in mid-Sweden, but itīs considered to be a part of north Sweden. It used to be a town for shipping out timber from the woods in the inland. There are also a lot of paper mills in this area. We have a regional school on university level, which attracts a lot of students both from our area and the rest of Sweden.
Some info about our gear: We shoot on DVC Pro 25, and edit on AVID Newscutters. The camera is an Ikegami HL-V77 with Sennheiser receiver for the handheld or for the lavalier mike. Cam-lights differ from camera to camera,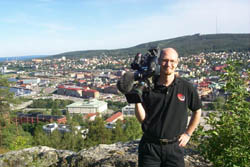 the one in the pictures is a Sachtler 20 W, but we also use PAG and Anton Bauer. The batteries for the camera are still NP-1 style, but with very good performance. Each photog actually have only four batteries. That is enough for us, as we often have a bit of driving to the location, which means we donīt actually shoot as much as I suppose you do in the US. We run both cam and cam-light on the twin-mounted NP-1-batteries. The Sennheiser handheld microphone has given us some problems so far. The singal/noise ratio is not to good. Our sound guys says that itīs because the mike is originally made for singers. One of our photogs have changed to the SKM-5000 mike (also from Sennheiser) and as far as I know got better performance.
Thatīs all from me for the moment, and as you can see the B-Roll gear looks good not only on the US east coast, but also on the east coast of Sweden (and when the woodpeckers find my bald head, I use the cap as well :-)
All the best
Mikko Lindskog
Mittnytt, Swedish Television, Sundsvall, Sweden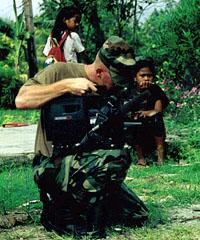 I'm a Broadcast Journalist in the US Army. I am station in Anchorage, Alaska but go just about anywhere for a story (and a paid vacation).
Here I am getting some b-roll while covering a story in Kosrae, a small island in the South pacific where most of the natives didn't know what my camera was.
Love your website! 
Tom Grayson Broadcast Journalist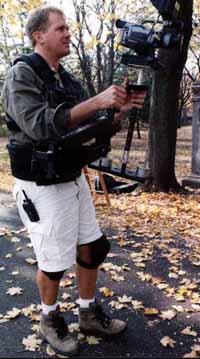 Hello,
Great web site!!! Love it!!!
I have enclosed... pictures, the first [is] of me shooting with the glide cam steady cam system. you can't use the larger broadcast cameras with this model so we opted for the sony 3 chip camera. I'm shooting an special series openings, stand ups and closing. note: the kneepads are key to a long day of shooting.
Scott Gribble
News Photographer, Rockford, IL
I have visited many times to Afghanistan. One of breaking story was the fall of Jalalabad, Afghanistan to Taliban and fall of Kabul to Taliban. Which was to showed all over the world.

At the moment I am sending you two of my pictures of Afghanistan, one at Jalalabd in Afghanistan and other at Faizabad, Afghanistan last year, a big earthquake took place which claimed 4000 lives. I am trying to call my office.

The story is that I was at Siachen for a TV documentary. Siachen is the highest war front in the world and this war front is between India and Pakistan. The highest post lies above 21,000 feet between the two countries.  Working at Siachen is a great feeling and the best experience I ever had in whole of my professional life up to now.

Best Regards,
Kamran Ahmed





Kolbjørn H. Larssen, Cameraman, Norwegian TV2 National News
kolbjorn@knmvideo.net

Shooting a documentary on Norwegian Navy Seals in Khatanga in northern Siberia, Russia.

We were stuck there for a week because of weather and customs problems. I am cameraman on two documentaries about two norwegian navy seals which right now are crossing the arctic ocean from Russia to Canada.

Khatanga is actually just a big airstrip very far north in Russia. It was used as a strategic airstrip and refuelling point for russian bombers going to america during the cold war. Now it's mostly used for pole expeditions.
"We go to great heights to get the shot up here in Alaska.

This tree overlooked the Alaska Wilderness Women Competition in Talkeetna, sometime in December '99.

Once up the tree I found myself the subject of a few still photographer."

Justin Freeman, KTUU (NBC) Anchorage, Alaska
WVEC photographer Kevin Johnson getting ready for ANOTHER live shot.
[Photo: Doug Aronson]
Take care and keep in touch.